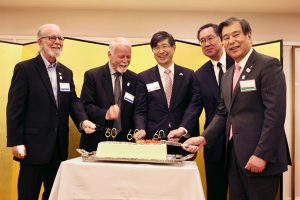 On October 25th, 2017, the Consul General of Japan in Los Angeles, Akira Chiba, hosted a special presentation entitled "Walk in U.S., Talk on Japan" and honored Japan-affiliated sister city relationships in Southern California at his official residence.
The "Walk in U.S., Talk on Japan" program is taking place in various regions of the U.S., highlighting Japan's attractiveness and appeal. A delegation from the Office of the Prime Minister of Japan, Shinzo Abe, led by Japan Ambassador Shotaro Oshima discussed important factors of the future U.S.-Japan relationships, and talked about recent positive developments in Japan. Master of Tea Ceremony Soushin Ikeda introduced the Chado way of tea, Nihon University College of International Relations lecturer and former IBM executive Akio Ogasawara discussed Energizing the Aging Society in Japan, and Waseda University Graduate School of Sport Sciences student Hokuto Suzuki spoke on "Explore Japan through Sports Tourism."
Dr. Anthony Al-Jamie, President of Sister Cities International Southern California Chapter, gave congratulatory remarks to the the cities of Pasadena-Mishima, Riverside-Sendai and San Diego-Yokohama, who were conferred the Consul General's Commendation by Akira Chiba in honor of the 60th anniversary of their sister city relationships, which began in 1957, one year after President Dwight Eisenhower introduced the sister cities concept in 1956.
The ceremony ended with a toast from the Mayor of Mishima, Japan, the Honorable Takeshi Toyooka. The heads and city officials of Japan-related sister cities in the Southern California region in attendance then enjoyed a Japanese buffet and mingled in the Consul General's Japanese garden.