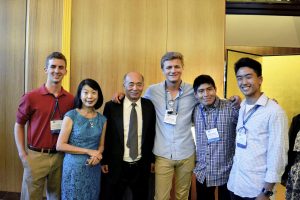 Do you know someone aged 14-18 who would like to attend the Sister Cities International Youth Leadership Summit in Virginia Beach from July 12-16, 2017? Here is information about a scholarship to attend:
http://socalsistercities.org/scholarships/
ATTENTION YOUTH AGES (14-18)
Are you interested in knowing more about Sister Cities International?
You can make a difference in your community while experiencing the different cultures of the world. Sister Cities International holds an Annual Conference for its members as well as a Youth Leadership Summit for eager youth wanting to gain leadership skills, knowledge of different issues affecting the world around us, and many other great skills and experiences. Sister Cities International Southern California Chapter is offering a scholarship to attend this year's Youth Leadership Summit that will be held in Virginia Beach, Virginia.
More information about the Youth Leadership Summit
Where: Virginia Beach, Virginia
When: July 12-16, 2017
Requirements to apply include the following:
The student application
A copy of the student's latest official transcript
A one page summary of the student's activities in his/her Sister City Program
A letter of recommendation by the President of the Sister City Committee/Association
A letter of recommendation from the student's principal, counselor, advisor or teacher
A one page personal statement expressing what the student hopes to gain from this experience and how he/she would stay involved within his/her city's Sister City Program
A one page parent/guardian statement regarding the student's participation/attendance to the Youth Leadership Summit
A signed parent/guardian waiver
To obtain more information and to download the application please click here.
Any questions please call or email Jeanette Avila, Selection Chair
(951) 232-0934 / avila590@gmail.com