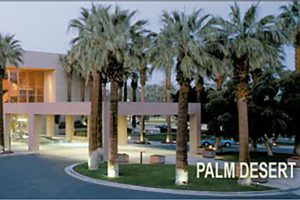 The Southern California Chapter of Sister Cities International is heading to the desert.
We hope you will join us in Palm Desert for November 4th the next regional and quarterly meeting of Sister Cities International Southern California Chapter, hosted by the Palm Desert Sister City Foundation. Please RSVP by e-mailing Kathleen Roche-Tansey at
kroche.tansey@gmail.com
and let her know if you would like to purchase lunch for $15. (Pay at the registration desk when you arrive).
---
Date:
Saturday, November 4th, 2017
Time:
9:00 am – 9:30 am Coffee and Pastries (Indian Wells Theater)
9:30 am to 12:00 pm Regional Meeting (Building #120)
12:00 pm to 1:00 pm Lunch ($15)
1:00 pm to 2:30 pm Quarterly Board Meeting (Building #120)
Location
California State University San Bernardino Palm Desert Campus
Indian Wells Theater & Building #120
37500 Cook Street, Palm Desert, CA
If you're planning to stay in Palm Desert, please see the attachment for info on discounted accommodations as well as recommendations for where to eat and things to do.
For info about Palm Desert:
E-mail
Charles Riggs <
candcriggs@yahoo.com
>
Tentative Agenda:

9:30 am
9:30 am
Mayor's Welcome
Introductions of SoCal Sister City Board Members & Visitors
Palm Desert Sister Cities Program Background and Highlights, with emphasis on Impacting Young Leadership
Palm Desert Sister Cities Special Focus items: Youth Leadership Summit (Clare Kim); Art, Culture, and Education (TBA); The Everest Project (Mark Talboys)
Sister Schools Panel: Kathleen Kelly (moderator) Mark Talboys (PDSCF staff), Melody Hirayama (Young Professionals Committee), Anthony Al-Jamie (SoCal Sister Cities President) Polly Yu (Carlsbad Sister City Ambassadors)
SoCal Sister Cities Announcements
12:00 pm
Networking lunch, browsing display tables, etc.

1:00 pm
Quarterly Board Meeting of Sister Cities International Southern California Chapter. Agenda To Be Announced.
---
Palm Desert Sister Cities Foundation
Is hosting the Southern California Sister Cities Quarterly Meeting
November 4, 2017 – 9:00 a.m. to 3:00 p.m.
at the CSUSB PALM DESERT CAMPUS – 37500 Cook Street, Palm Desert, CA
From I-10 East or West exit, Cook St, turn south toward town, left at the light on Berger Drive (west) …Open Parking at CSUSB
9:00 am Coffee and Pastries enter IW Theater northside
9:30 am to 2:30 pm Table Displays and SoCal Quarterly Meeting
in
Building # 120 across the walkway
Working Lunch delivered for $15 cash or check at registration
SPENDING THE WEEKEND IN PALM DESERT?
Special Discount Hotel Rates at The Fairfield Hotel, 74-764 Technology Drive, Palm Desert
Phone: 760-636-1300 & mention "Sister Cities" for discount nightly rate of $121 for King Bed, or $137 for two Queen Beds, including breakfast. Discount rate applies for November 4th, plus night before &/or night after, if desired. The Fairfield General Manager is Joseph Comage if you have any problems or questions.
A few recommended restaurants:
Bucatini Trattoria – Lunch/Dinner. $$ Italian. 36-901 Cook Street
City Wok – Lunch/Dinner. $ Chinese. 74-970 Country Club Drive, Desert Springs Marketplace
Cork Tree Fine Dining – Dinner only. $$$
Desert Willow Clubhouse – Breakfast/Lunch. $$ American. 38-995 Desert Willow Drive
JT's Diner – Breakfast/Lunch. $ American. 37-011 Cook Street, #107
Pueblo Viejo Grill – Lunch/Dinner. $ Mexican. 36-901 Cook Street, Suite 3
Roc's Firehouse Grille – Lunch/Dinner. $ American. 36-891 Cook Street
Towne Center Café – Breakfast/Lunch/Dinner. $ American. 44-491 Town Center Way
Points of Interest:
The Living Desert
El Paseo Art Tour
Palm Desert Civic Center, complex that includes the Holocaust Memorial and Aquatic Center
Sunnylands – Historical Annenberg Estate open to the public. (sunnylands.org)
Palm Springs Aerial Tramway
Palm Springs Air Museum
Palm Springs Museum in Palm Desert (and the main one in Palm Springs)
College of the Desert, and its libraries
Need additional information? Contact Charles Riggs at 760/534-2520 or email at candcriggs@yahoo.com