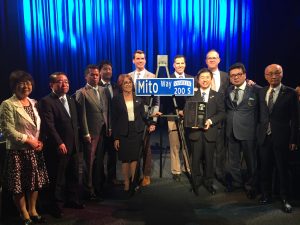 On August 18th, 2016 a 26-member delegation from Mito, Japan visited Anaheim, California to commemorate the 40-year anniversary of sister city relations between the cities of Anaheim, California and Mito, Japan. This delegation included Mito Mayor Yasushi Takahashi, Mito City Council Chairman Shinyo Murata, five Mito City Council members, four Mito City Hall staff and 15 Mito citizens.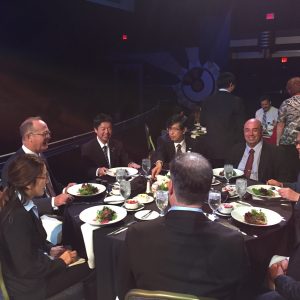 A special luncheon was held at the City National Grove of Anaheim with over 50 people in attendance including the Consul General of Japan Los Angeles Akira Chiba, Anaheim Mayor Tom Tait, Anaheim Mayor Pro Tem Lucille Kring, Anaheim City Councilmember James Vanderbilt, and the Anaheim Sister City Commission.
In the evening, the Mito delegation attended the Anaheim City Council Meeting where it was announced to the public that Anaheim had named a street next to Anaheim City Hall "Mito Way" in honor of the anniversary.
During the visit, the Mito delegation also visited a Japanese class at Loara High School, an Anaheim branch of the Japanese-owned Union Bank of California, Mito Bridge in Anaheim, Disneyland, the Anaheim Convention Center, ARTIC train station, and Angel Stadium.