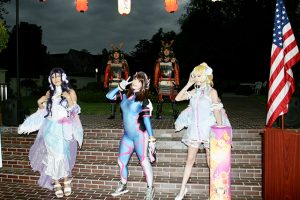 Los Angeles Nagoya Sister City Affiliation (LANSCA) & The City of Nagoya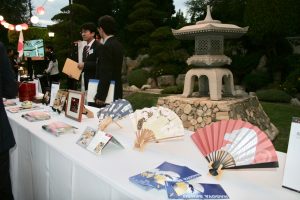 On November 1st, 2017, the Los Angeles Nagoya Sister City Affiliation & the City of Nagoya hosted " 2017 Explore Nagoya and Central Japan" at the residence of the Consul-General of Japan in Hancock Park, Los Angeles.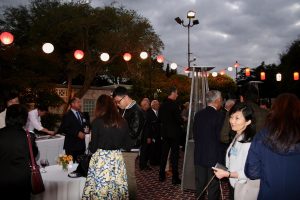 The event began with a reception in the garden area at the back of the residence where drinks and finger-foods, including specialty foods from the Nagoya region – Mini-eel Rice Bowl, Miso Katsu, Kishimen Noodles, Oguri Sweet Red Bean Toast — were served amongst display tables to showcase Nagoya and the Central Japan region.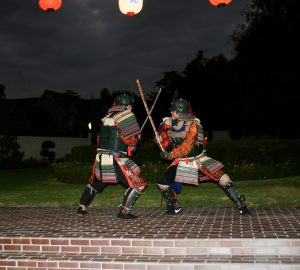 At 6:10 pm, a samurai war yell announced the beginning of the evening's program which started with a performance by samurai warriors, representing traditional Nagoya, and cosplay performers, representing modern Nagoya. After words of welcome by officials, a buffet dinner with Japanese dishes including sushi, wagyu, shabu shabu, and Nagoya specialties such as ebi fry (fried shrimp), and tebasaki (chicken wings), were served.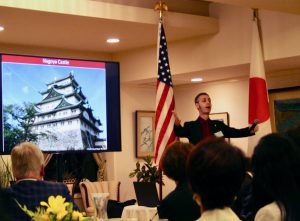 Towards the end of the dinner. LANSCA gave a brief overview of the Central Japan region followed by the keynote speaker, Chris Glenn, who is an Australian DJ who has lived in Nagoya for many years and is known as a specialist in samurai history and culture. He is also popular on Japanese radio and television. Chris then joined a panel with two other Angelinos who have spent time in the Nagoya area to give their personal thoughts about Nagoya and Central Japan. The event climaxed with a drawing for a roundtrip ticket to Japan offered by Delta Airlines plus a stay in the Shima Kanko Hotel in Shima City (where the G7 heads of state stayed in 2016) plus a regional rail pass called "Shimakaze" (island wind).